Asia, home to some of the most ancient civilizations on the planet's surface, is a melting pot of cultures. This diverse continent possesses a plethora of tales and traditions, guarded by the northern Arctic Ocean, southern Indian Ocean, western Red Sea, and western Europe. 
Here is one of the best reasons to visit Asia: You will never run out of things to see and do. From stunning historical landmarks spanning eons, to uncharted grasslands begging for exploration, hidden beaches fit for a castaway, food havens where no budget is too small, shopping meccas and night markets that never cease to amaze, the Far East is truly a place of wonderland in sleep, and here we are about to awaken it by uncovering the 15 best places to visit in Asia.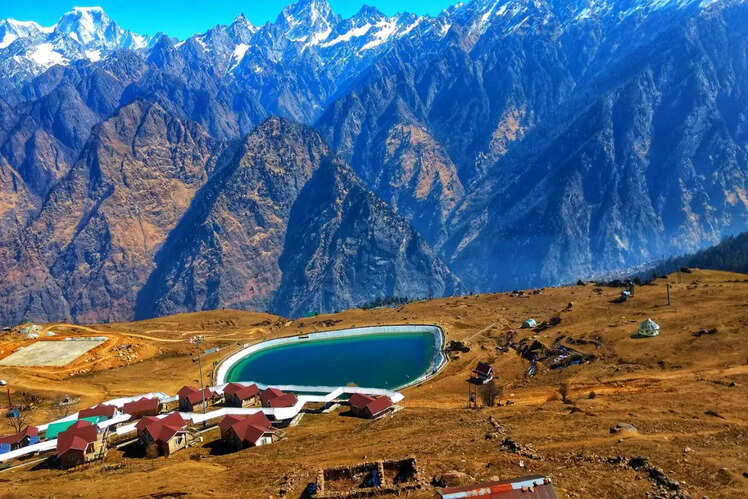 There is no better way to start our list of the best places to visit in Asia than with a destination in India. 
Uttarakhand has long been an important destination for religious and spiritual tourism for its people. But now, a few spots in the state are becoming a firm favorite for many different kinds of tourists – ranging from leisure lovers to adventure seekers. Uttarakhand offers an array of breath-taking attractions: lakes, temples, and mountains, making it an ideal place to spend a holiday getaway.
There are several remarkable experiences not to miss when exploring Uttarakhand. One of the top highlights would be rafting in Rishikesh—an exhilarating adventure that promises an unforgettable experience. Also worth mentioning are its lakes and treks, which should be on every traveler's itinerary.
Keep in mind that the best time to visit Uttarakhand is during summer, so you should plan your trip between May and October.
Along with Jakar and Punakha, Paro forms a triangle-shaped area, as shown on the Bhutan map. The place is an ideal Bhutanese town to wander around on foot. And one of the absolute 'musts' in Paro is, of course, visiting Taktsang Lhakhang. 
Also known as the Tiger Nest, Taktsang Lhakhang shares the title of Bhutan's most iconic location, making it one of the best places to visit in Asia. This UNESCO World Heritage site has such an intriguing structure, setting itself against the backdrop of the lush green valley – a sight you will never forget. 
One thing about this monastic site is that reaching it is no easy task. It takes about 3-4 hours to walk through those mountainous paths (there's a bit of a challenge, but nothing too crazy). But as long as you're physically fit for trekking, you are perfect for the place. The Tiger Nest was built as far back as 1692, in a cave where the legendary 'Guru Rinpoche' is said to have spent time in the 7th century.
Southeastern of Sri Lanka
This list of the best places to visit in Asia would be incomplete without a wildlife destination. And that's exactly why we need to check out Southeastern Sri Lanka, the most underrated wildlife paradise on earth. 
Sri Lanka is truly a mesmerizing nation if you ask us. The southeastern part of the country, in particular, is renowned for its awe-inspiring nature and wildlife. Travelers can embark on enchanting nature trails, explore magnificent temples and forts, and venture into wildlife national parks, where you have the incredible opportunity to observe native species (such as Sri Lankan elephant, mugger crocodile, purple-faced langur, saltwater crocodile) up close and personal.
One of the most significant and popular national parks in the country, situated in the southeastern region, is Yala National Park. This protected area spans nearly 130,000 hectares of land and boasts breathtaking seascapes. The park is especially famous for its population of Sri Lankan leopards.
Southeast Asia's Must Sees
Malaysia is a country that's famous for its cultural diversity. But Sarawak takes that concept to a whole new level.Sarawak is an exquisite patchwork of traditions and races (even by national standards, so you can imagine just how diverse it is). According to the state government, there are as many as 27 ethnic tribes living in this state. 
The reason why Sarawak is one of the best places to visit in Asia is largely because of its cultural extravaganza. Kuching, the state capital, is the center of Sarawak's rich cultural tapestry, making it the perfect starting point. Start off by dining at those restaurants that line the attractive waterfront. Try some classic Malay dishes, like Sarawak laksa noodles. 
There's so much to learn about the indigenous Bornean people, and a visit to Sarawak's Cultural Village deserves a special mention here. Almost like a living museum, a visit to this special bornean village will give you an incredible overview of the diverse indigenous groups in the region. But if you want to truly immerse yourself in the local culture, there's nothing quite like spending a night in a 'Longhouse', which allows you to experience traditional Dayak music, dance, and cuisine in its truest sense.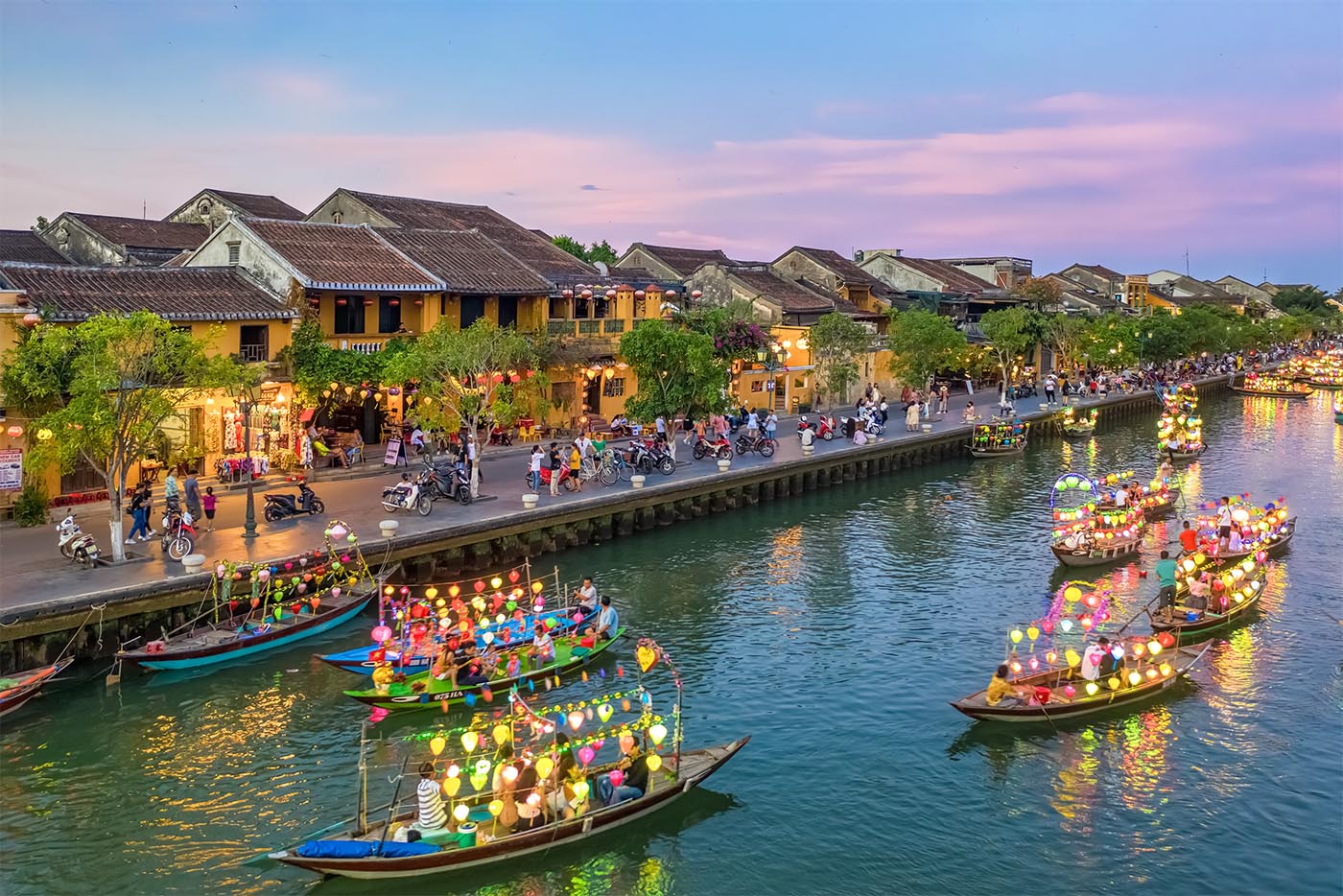 When it comes to Vietnam, tourists usually touch down in Hanoi or Ho Chi Minh City, or perhaps head straight to Halong Bay. But recently we've learned that Vietnam's real hidden gem lies elsewhere. And this article on best places to visit in Asia is about to bring the country's best-kept secret to light. 
Welcome to the ancient city of Hoi An, the second UNESCO World Heritage Site on our list, where one of Asia's oldest trading ports dates back centuries. Back in the fifteenth century, Hoi An was a bustling trade hub. The town still proudly displays its original architecture to this day. You'll find these beautiful timber frame buildings, vibrant French-colonial shutters, along with iconic Chinese tiled roofs all over the place.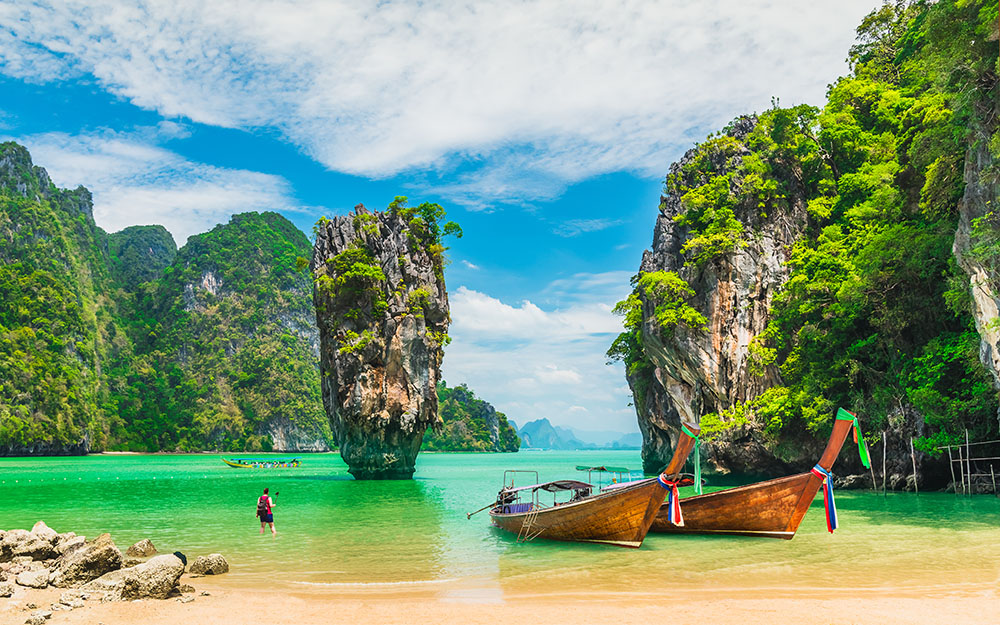 Thailand has stolen the spotlight as the go-to destination for American tourists in Southeast Asia. And you can probably guess where many of them ended up: Phuket, the holy grail of Thai travel. In fact, in the first ten months of 2022, Phuket rolled out the welcome mat for over 2.4 million foreign visitors.
Being hailed as one of the best places to visit in Asia for years, Phuket is one of the top famous beaches in Thailand. Take Bang Thao beach, for example. This sandy paradise stretches for roughly 5 miles along the island's west coast. Whether you want to kick back and relax or dive into an adventure, Bang Thao caters to all your needs.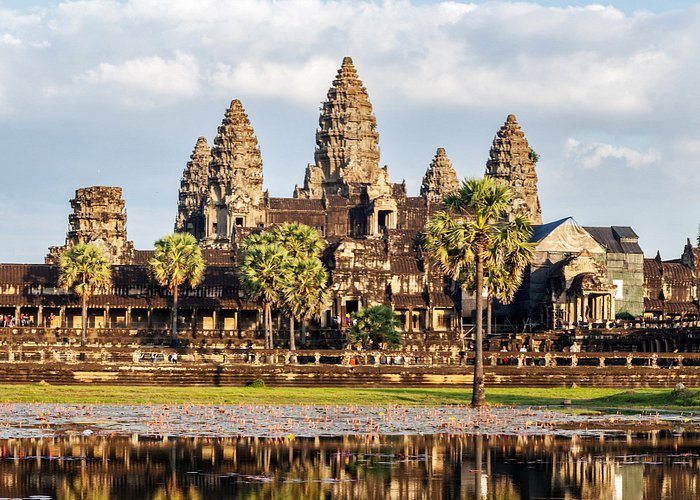 Siem Reap, known as the gateway to the Angkor region and its magnificent temples left behind by the Khmer civilization, is a remarkable resort town. At the heart of this area stands Angkor Wat, the largest religious monument in the world. Constructed in the early 12th century, this architectural marvel spans over 160 hectares.
But let's not forget about Siem Reap itself. This city, as one of the best places to visit in Asia today, is an absolute gem. The destination is a captivating blend of Chinese and French colonial architecture. Traditional Apsara dance performance spaces harmoniously coexist with French bakeries, galleries, and the serene beauty of rice paddies.
While in Siem Reap, don't just stick to sipping coffee at aesthetically pleasing cafés and taking day trips to the antique-looking temples. If you have a few hours to spare before visiting Angkor Wat, the Angkor National Museum is an excellent opportunity to deepen your knowledge of the archaeological ruins and the magnificent civilization that once thrived in the region – and what you'll get from that experience is nothing less than a true eye-opener.
Boracay, renowned as one of the top islands in the Philippines, is celebrated for its stunning beaches. With its expansive stretches of soft white sand, pristine azure waters, and breathtaking sunsets, Boracay is considered one of the best places to visit in Asia post-pandemic.
This island gem holds iconic status in the Philippines and has bagged multiple awards over the years. Back in 2019, it snagged the top spot in the Asia Category of Conde Nast Traveler's The Best Islands in the World 2019 Readers' Choice Awards. And in 2020, proudly maintained its position on the Top 10 list, landing itself at a respectable 6th place.
The bustling streets and traffic congestion in Bali have become quite discouraging for both locals and tourists. A perfect alternative to this crowded atmosphere, however, is none other than Lombok. With ample space and favorable conditions for exploring with bicycles, tourists can conveniently roam from one pristine beach to another without any hindrances.
Lombok has secured its place on our list of the best places to visit in Asia for several reasons. One significant factor is its exceptional natural attractions. The island boasts a collection of breathtaking waterfalls that are unparalleled in their beauty. As an example, the twin rainbow waterfalls of Tiu Teja and Tiu Kelep offer a truly enchanting experience. 
What's more, Lombok is also blessed with Pink Beach, or as the locals call it, Tangsi Beach. This secluded paradise is far away from touristy areas, which means it's kept its natural beauty intact. Just imagine clean, translucent waters and pristine sand – an absolute bliss.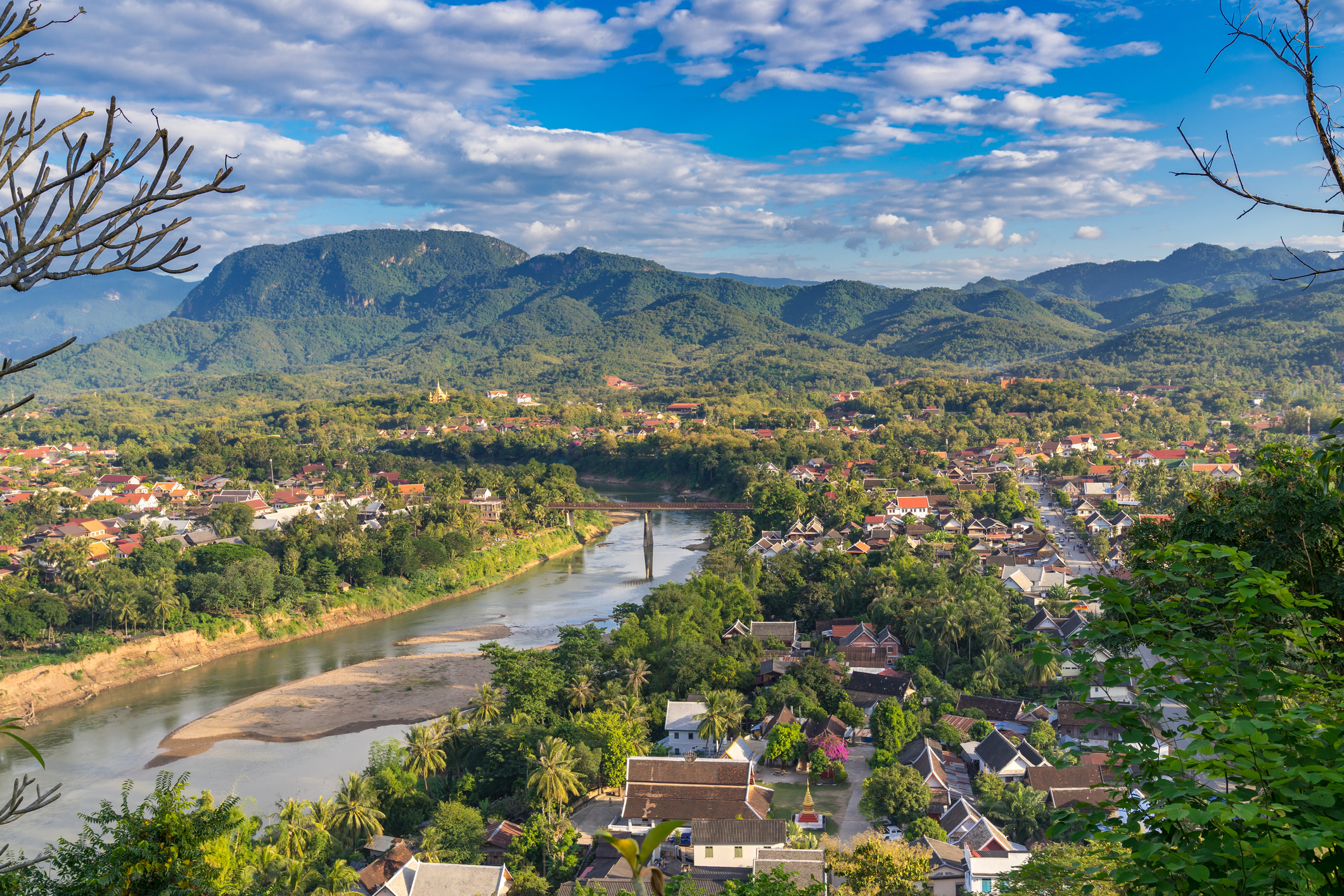 If any destination deserves to be on our list of the best places to visit in Asia more so than any other, Lao Prabang is certainly our top contender.
Luang Prabang, along with 33 surrounding villages, has earned its spot as part of the prestigious UNESCO Town of Luang Prabang World Heritage Site. Together, these locations possess an extraordinary blend of cultural and architectural heritage that has played a significant role in shaping Laos over the centuries.
One shining example of this rich heritage is the Xieng Thong temple, also known as the 'Temple of the Golden City'. This 16th-century structure not only showcases remarkable examples of Laos arts and crafts but also holds historical significance as the place where all Laos kings were once crowned. Right in the heart of the town, you'll find Mount Phou Si, home to Wat Chom Si, which offers a breathtaking panoramic view of the town once you reach the summit.
To truly experience the essence of Luang Prabang, it's best to explore on foot or hop on a bike. Lose yourself in the maze of narrow alleyways, where temples, houses, and colonial buildings coexist in perfect harmony, creating an enchanting atmosphere that's uniquely Luang Prabang.
East Asia's Top Destinations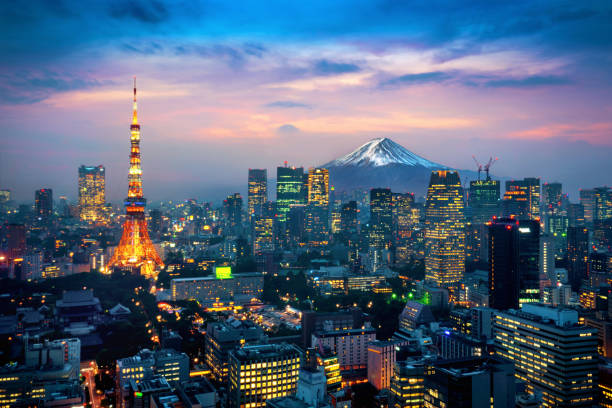 Indulge yourself in a city that truly delivers on its promises. While tech-savvy locals may navigate Tokyo with ease, you'll find this place offers a wealth of world-class museums, historical sites, and urban parks that are bound to leave you in awe. Take the opportunity to capture captivating photographs, savor delectable sushi, and embark on a shopping spree like no other.
Seoul has made it to our list of best places to visit in Asia thanks to its hip neighborhood. Seoul's rise as a global trendsetter, and Gangnam has always led the way. If Seoul is the cool capital of Asia, then Gangnam is its creative powerhouse. This place has become the epicenter of Korean business and pop culture, with global companies flocking to the district like there's no tomorrow. And let me tell ya, when the sun goes down, Gangnam takes the crown as Seoul's ultimate nightlife hub. Locals gather in the bars that line the streets, bathed in neon lights, and let loose after a hard day's work.
China has many cities with the potential to become one of the best places to visit in Asia, but Beijing is a city like no other. It's not just one of the most populous cities in the world, but it's also got some serious history under its belt. And if you want to catch a glimpse of that history, all you have to do is stroll through Beijing's hutongs. These narrow alleyways are lined with traditional homes and courtyards, painting a picture of the city's rich past.
Beijing is home to not one, not two, but seven UNESCO World Heritage Sites. There's the Imperial Summer Palace with its mesmerizing gardens, the oldest canal in the world, and let's not forget the Forbidden City. This palace complex served as the royal residence for China's emperors for around 500 years, starting in the 1420s. And the Forbidden City is a sight to behold given that it is made up of nearly 1,000 different buildings.
As one of the best places to visit in Asia, Qatar is where the past and the future coexist in a truly captivating manner. On one side, you'll be fascinated by the innovative skyscrapers that define its modern skyline. At the same time, the independent state will invite you to explore its rich heritage through ancient architectural sites like Al-Zubarah. You can also immerse yourself in the vibrant culture by visiting notable landmarks such as the Mathaf: Arab Museum of Modern Art, Sheikh Faisal's private museum at Al Samriya, Doha's Traditional Market, and the intriguing Al Jassasiya rock carvings.
Dubai, the United Arab Emirates
Dubai is truly a magnificent treasure of the best places in Asia to visit. One of the reasons for its greatness is the Sahara desert experience the destination provides. Picture this: riding those classic jeeps, conquering sand dunes, hopping on camels' backs for a breathtaking sunset ride, and treating yourself to a delectable traditional meal in a Bedouin camp. You won't find anything quite like it.
But that's not all. Dubai serves as the perfect launchpad for exploring the region. Whether you fancy a road trip to Oman, a tranquil getaway in Sri Lanka, or a mesmerizing journey to Egypt, the possibilities are endless. You could easily spend 10 days in the UAE alone and still find endless excitement and exploration.
Now that the Covid-19 pandemic is behind us, it's the perfect time to explore one (or more) of these best places to visit in Asia. However, before you leave, prioritize your health and get vaccinated. Protect yourself and others by ensuring you're fully vaccinated before traveling to Asia.
When preparing for your trip, remember to pack clothes that cover your knees and shoulders, especially if temple visits are part of your itinerary. Respecting local customs and traditions is key, and modest attire will help you show appropriate cultural sensitivity.
Additionally, be mindful of certain practicalities. Check currency exchange rates and have local currency on hand for smooth travel. And when it comes to drinking water, avoid tap water as it could be contaminated. It's time to have a blast!