Today, while trying to find the best WordPress theme for our site, we came across some stunning beach image themes that instantly reminded us of our time in Thailand. We had an amazing experience there, easily one of the best times of our lives. This inspired us to write a plain review of top 10 best beaches in Thailand and share it with all of our readers. 
So, let's not waste any time and get right to it.
Krabi is a true sanctuary for those seeking escape from hectic city life. After all, what could be more incredible than immersing yourself in lush coral reefs, encountering rare marine life, and basking on the most breathtaking beaches Thailand has to offer? Let's find out more about the most beautiful beaches in Thailand that are located in Krabi.
Laem Thong Beach, Phi Phi Island
Not many people know this, but Laem Thong and the entire Phi Phi island are governed by Krabi Province. The reason this island's location causes so much confusion among tourists is because it can be reached by ferry from both Phuket and Krabi, with the latter being slightly faster and cheaper.
While on Phi Phi island, we took a boat from Ton Sai village and made our way to Laem Thong, a hidden beach paradise. This remote beach has been compared to the Maldives by many travel experts and is commonly listed as one of the best places to visit in Asia. Laem Thong's powdery sand and sparkling turquoise waters have earned it a reputation as one of the best beaches in Thailand, appealing to peace seekers, snorkelers, and food lovers alike.
Railay Beach has been on the list of best beaches in Thailand for ages, and no one could say they have been to Krabi without visiting this beach. The beach is split into two zones: east and west, and you can easily stroll between the two. What's worth mentioning here, in our humble opinion, is West Railay, which is an absolute dream for all SUP board enthusiasts wishing to paddle in crystal-clear water.
Surrounded by magnificent limestone cliffs, the beach is only accessible by a long-tail boat, even though it's technically on land. The beach is filled with hidden caves and rock climbing paradises. While some go there for a day trip to enjoy the spectacular sunset or discover the peninsula's secluded coves, many (including us) choose to spend the night in one of the many lodgings close to the water.
Despite being a relatively small province in the country, Rayong is home to some of the best beaches in Thailand, with its main attraction being none other than the famous Samet Island.
Sai Kaew Beach, Samet Island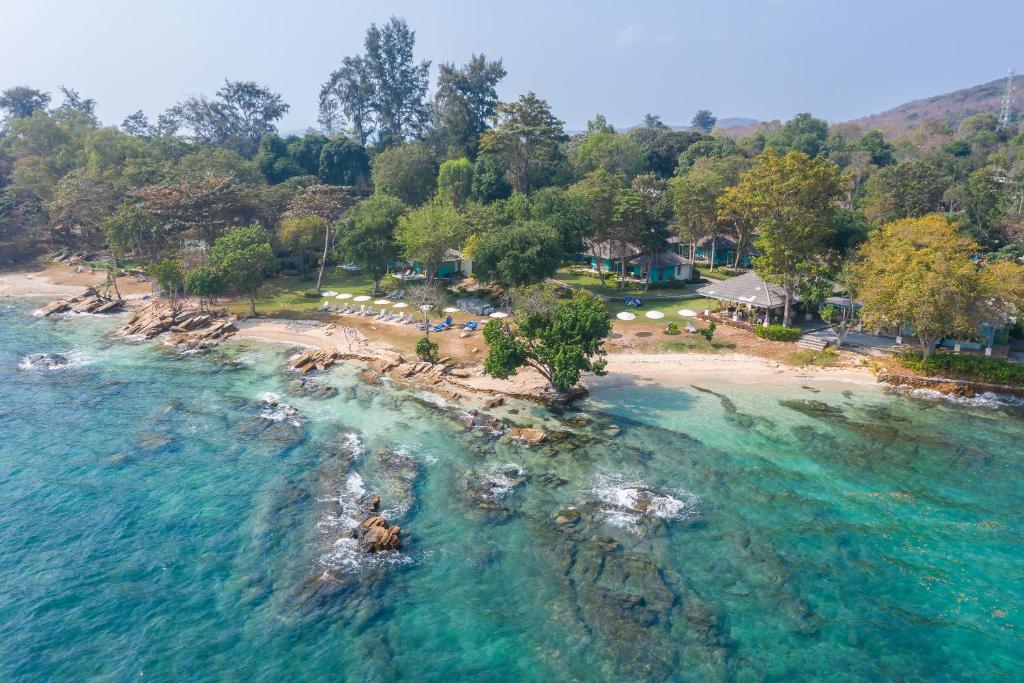 We had to add this beach to the list of best beaches in Thailand right away for its incredible mix of soft, powdery sands and buzzing nightlife, all just a hop away from Bangkok.
Sai Kaew Beach is the perfect spot for a quick weekend escape. It effortlessly combines laid-back vibes (morning strolls, afternoon siestas, beachside massages) with lively experiences (every water activity you can think of, beach parties that go on all night long). Sai Kaew draws in beach lovers who are all about indulging in the best things in life—whether it's soaking up the sun that shines nearly all year round, treating themselves to decent grub, or enjoying some wallet-friendly booze.
Beautiful Beaches Near Trat
Trat is known for its booming fruit-growing industry, bustling fishing activities, and even gem mining. It goes without saying that Trat is blessed with some destinations that are considered top beaches in Thailand, all thanks to its abundant natural resources. 
Tha Pho Beach, Kood Island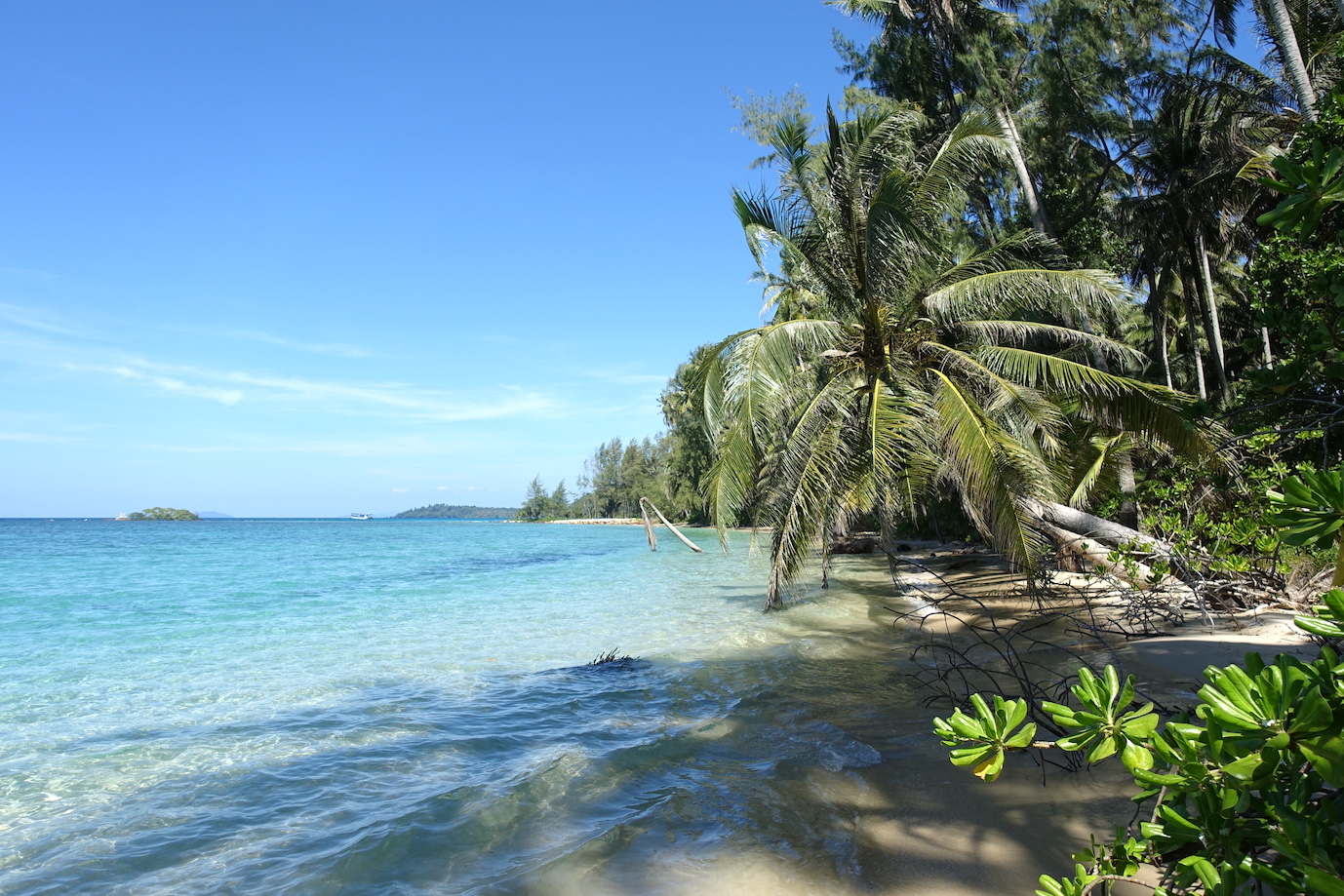 Tha Pho Beach is an idyllic retreat tucked away on one of Thailand's most secluded resort islands. This slice of paradise boasts a pristine white-sand shoreline that exudes blissful isolation. We found just a handful of cozy homestays, budget-friendly hotels, and luxurious resorts scattered about. And as one of Thailand's smaller islands, Koh Kood holds on tight to its laid-back and enchanting atmosphere, worlds apart from the bustling resorts found on other best beaches in Thailand.
One thing we've learned from visiting this picture-perfect hideaway: serenity is deceiving. Tha Pho Beach may seem hushed, but beneath its tranquil turquoise waters lies a thriving underwater world. Sea turtles, stingrays, barracudas, and a colorful array of reef dwellers all coexist in this rich marine ecosystem.
White Sand Beach, Chang Island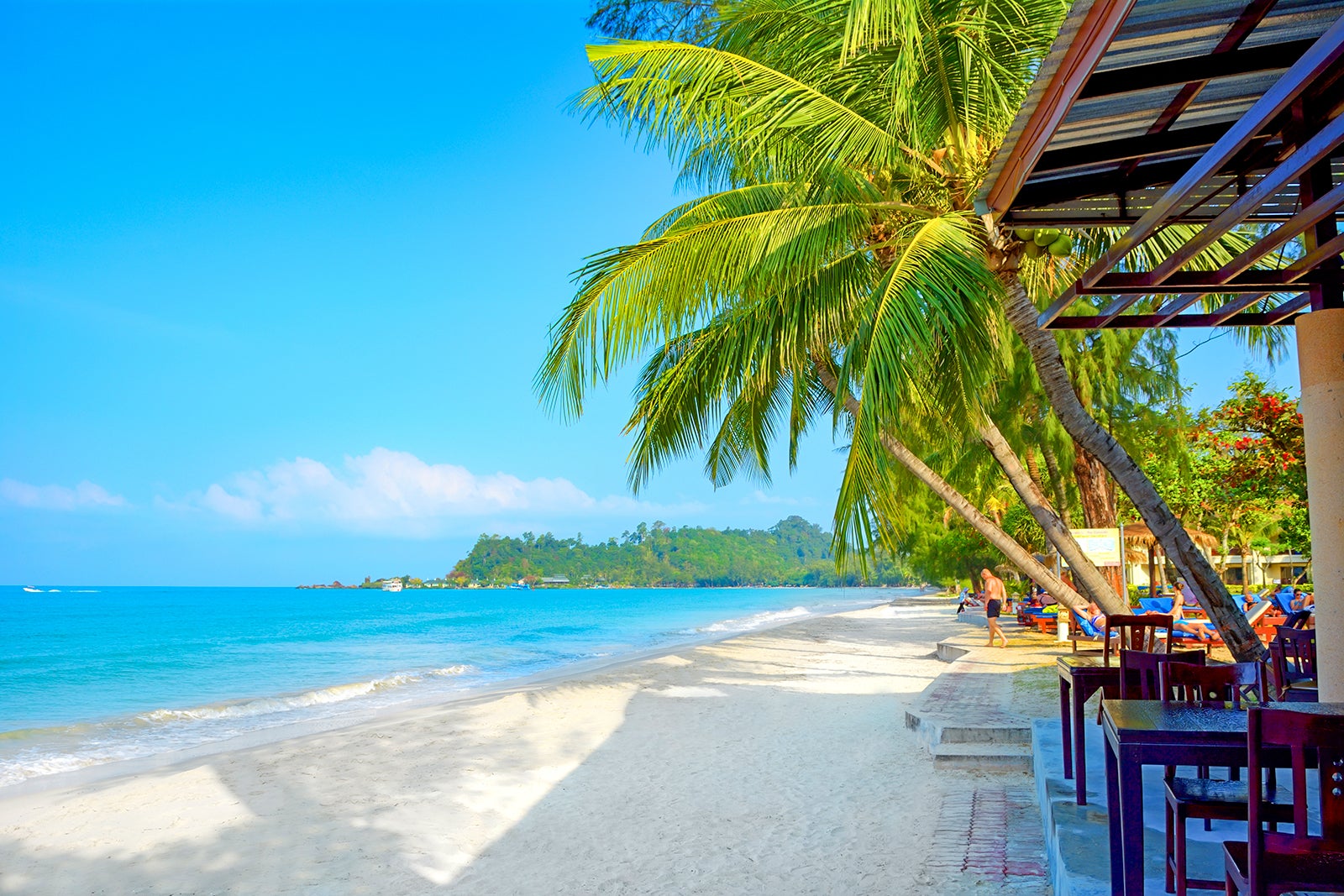 During our time at White Sand beach, we were caught between the uptempo nightlife and the relaxing beach vibe.
When the sun is high up in the sky, you'll be living the good life, baking in the sun. The sand is as soft as a cloud, palm trees gently sway in the breeze, and the water embraces you as it flows. But when the day starts to wind down and the sky paints a mesmerizing sunset, that's when things really get interesting. Beach bums and backpackers alike gather, getting ready for some serious happy hour action. 
As night falls, the beach transforms into a whole new world. Just picture this: candle-lit tables casting a romantic glow and the sound of music pumping from clubs that won't call it quits until the very last person stumbles home. White Sand beach is, without a doubt, one of the best beaches in Thailand for those who desire a balance of fun and serenity.
Amazing Beaches Within Easy Reach of Satun
We instantly fell head over heels for Satun, especially for its authentic local lifestyle. This small province is home to almost 100 islands, and many of the best beaches in Thailand can be found right here on Satun's renowned Lipe Island.
Sunset Beach, Lipe Island
Nestled on Koh Lipe, a charming island near the border of Thailand and Malaysia, Sunset Beach is the kind of destination that's still somewhat off the beaten path. 
This is what the scene looks like: massive boulders rising up from the sand and water, creating a natural fortress around the beach. 
In this seemingly faraway paradise, you'll be greeted by sand as soft as flour, skies painted a vibrant cyan, and waters so gorgeously blue they could rival a Tiffany jewelry box. Among all the best beaches in Thailand, this beach calls out to those who long for tranquility and the chance to slow down the most. Almost as much as the gorgeous scenery (perhaps even more), we love the food at Sunset Beach. The beach is just a short 15-minute stroll away from the lively walking street, where we feast like royalty on a variety of fresh seafood.
On our trip to Thailand, we discovered a little secret location on Koh Lipe called Bulow Beach.
Bulow Beach is a 400-meter strip of pure paradise, covered in the softest sand you can imagine. And to our surprise, the beach stretches seamlessly from Sunrise Beach's northern end. What's even more incredible is its one-of-a-kind location. It sits right on the tip of Lipe Island, allowing you to witness both breathtaking sunrises and mesmerizing sunsets. And if you're looking for a glimpse of neighboring Koh Adang, Bulow Beach is the prime spot to soak in those stunning views.
Now, here's something that really baffles us. We can't help but wonder why this beach isn't more popular. We mean, it's a hidden gem. We guess the reason behind it is that there's only one place to stay on Bulow Beach: the superb Mountain Resort Koh Lipe (which is where we spent a couple of nights).
Beach lovers or leisure travelers, Phuket is a must on every tourist's itinerary. It possesses many of the best beaches in Thailand, but to us, the real gem of this island turned province is Kata Noi – one remarkable beach in today's article.
In the middle of the buzzing Kata Beach tourist area, lies Kata Noi, an oasis of peace where we seek solace from the world (although, admittedly, keeping it all to ourselves wouldn't be fair).
This beach offers smooth, soft sand that's perfect for sinking our toes into. And as we stroll along, we've encountered a hillside road, lined with the most awesome sunset bars and these cute little shacks selling cold Singha beer and some finger-licking good side dishes.
At the northern end of the beach, you'll find a sweet spot for surfing, where you can catch those waves and ride them to the shore. And for snorkelers, head to the rocky headlands at either end of the bay and you'll discover a whole new world under the water, filled with vivid marine life of all shapes and sizes.
Top Beaches to Visit from Surat Thani
While Surat Thani itself may not boast any significant tourist attractions, it serves as the gateway to some of the best beaches in Thailand, including those on Koh Tao, Koh Pha Ngan, and the renowned Koh Samui.
Thong Nai Pan Noi Beach, Phangan Island
We were all hyped up about those legendary full moon parties that Koh Phangan is famous for when we stumbled upon Thong Nai Pan Noi Beach. The beach is a whole different experience and we can say that it has become one of the best beaches in Thailand for a reason. It's not the spot for wild partying; instead, it's a refuge far removed from the lively festivities. It attracts New Age enthusiasts, laid-back bodyboarders, couples seeking romantic getaways, and those yearning for a more relaxed ambiance. For those staying a little longer and are worried about getting bored, there's a diving school and even some jet-skis for rent (well, only if you're up for some thrills).
While its waters are clear as gin, this sandy cove has no offshore reefs to explore. However, what it lacks in reefs, it more than compensates with sumptuously smooth sand, resembling velvet, which stretches seamlessly into deeper waters, perfect for indulging in leisurely swims or playful splashes.
Chaweng Beach, Samui Island
We have reached the end of our list of 10 best beaches in Thailand, and Chaweng beach is just right for wrapping things up.
Chaweng Beach in Koh Samui is a beautiful spot that's become quite popular with tourists, some even call it mainstream. But we can't talk about the best beaches in Thailand without mentioning it.
Up in the northern part of Chaweng Beach, you'll find some fancy-schmancy high-end resorts where you can kick back, relax, and treat yourself to a heavenly spa holiday (given what your budget permits). The entire stretch of this beach is bustling with beachfront bars that come alive during happy hour and only get wilder as the night progresses, creating unforgettable celebrations that we highly recommend everyone experience at least once.
Beaches in Thailand are magnificent, and based on our own experience (plus some online reviews), there are more than just ten destinations worth visiting. Thailand continues to be a leading beach destination in 2023 and undoubtedly in the years to come. 
However, what's more important for the country to consider now is not just how to maintain its status as the world's top beach destination, but rather how to sustain its natural resources. In the future, we might see Thailand adopting more approaches towards sustainable tourism and hopefully their beautiful beaches will last for generations.