In the fast-paced and constantly evolving fields of graphic design and digital arts, having a reliable laptop that can keep up is critical. Graphic designers, illustrators, UX/UI designers, and other creative professionals require a technological companion that can not only support their artistic aspirations but also empower them to unleash their full potential. Thus, determining the best laptop for designers is a constant point of discussion in the creative community.
This article delves into the components that make the best laptop for designers and reveals the best laptops in 2023 that offer optimal performance, impressive graphics, and robust storage.
Identifying which laptop is best for designers boils down to three key factors – performance, graphics, and storage.
Design-related software and applications, such as Adobe Creative Cloud or Sketch, often require substantial system resources. For instance, the latest versions of Adobe Photoshop or Illustrator demand a robust processor and a significant amount of RAM.
A high-end processor, like an Intel Core i7 or the Apple M1 Pro, is necessary to avoid system bottlenecks and keep up with the complex computational tasks designers often encounter.
Similarly, ample RAM—ideally 16GB or more—enables a smooth, lag-free user experience when working with large design files or operating multiple programs simultaneously.
A laptop's graphics capability is another crucial factor that directly influences which laptop is perfect for designers. Both a high-quality display and a powerful graphics card are vital for a designer.
For accurate colour representation and detail-oriented work, designers need a laptop equipped with a high-resolution, colour-accurate display. You must also determine what is ui/ux design you will be needing.
Furthermore, a dedicated graphics card is key to rendering images efficiently, particularly for those involved in 3D modelling or animation tasks. NVIDIA and AMD offer some of the best graphics cards in the market.
In digital design, the size of project files can be significant. As such, a laptop with ample storage space becomes a necessity. SSDs, or Solid State Drives, are preferable to HDDs, or Hard Disk Drives, for a couple of reasons.
Firstly, SSDs offer faster data read/write speeds, which translates to quicker system boot-ups and reduced loading times for software. Secondly, SSDs are less prone to mechanical failure, making them a more durable and reliable choice for professionals who can't afford to lose their work.
The 5 Best Laptops for Designers in 2023
Determining which laptop is best for designers can be challenging, given the myriad of options available in the market. This selection presents a curated list of top-tier laptops that meet the essential criteria for designers – stellar performance, impressive graphics, and extensive storage capacities.
Apple MacBook Pro (16-inch, M1 Pro)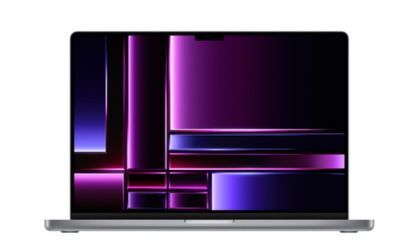 Topping the list, the Apple MacBook Pro (16-inch, M1 Pro) is a beast in terms of both performance and visuals. Powered by Apple's groundbreaking M1 Pro chip, it offers unrivalled processing speed and power efficiency, essential for running resource-intensive design software such as Adobe Creative Suite and AutoCAD.
The MacBook Pro features a stunning 16-inch Retina display with True Tone technology, which automatically adjusts colour temperature based on ambient lighting for optimal viewing comfort. The inclusion of the P3 wide colour gamut ensures accurate colour representation, vital for any design work.
With a choice between 512GB to 2TB SSD storage, you will have more than enough space to store all your design projects and software. Furthermore, the MacBook Pro offers up to 32GB unified memory, ensuring fast and smooth performance even with multiple apps and large files open simultaneously.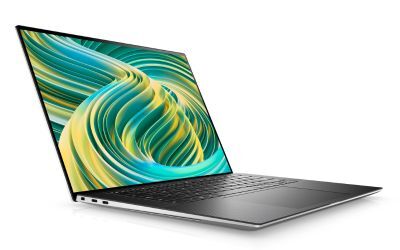 The Dell XPS 15 is a perfect blend of power and aesthetics. Powered by up to an 11th Generation Intel Core i9 processor and up to 64GB DDR4 RAM, it provides ample power to smoothly run design software, allowing designers to seamlessly switch between tasks.
Its 15.6-inch 4K Ultra HD+ (3840 x 2400) InfinityEdge touch display boasts 100% Adobe RGB colour, offering vibrant, lifelike colours and exceptional details. This display feature is particularly beneficial for precision tasks like photo editing and graphic design.
In terms of storage, the Dell XPS 15 offers up to a 2TB M.2 PCIe NVMe SSD, providing fast, reliable storage. Lastly, the NVIDIA® GeForce® GTX 1650 Ti graphics card ensures the smooth rendering of high-resolution images and videos.
Asus ProArt Studiobook Pro 17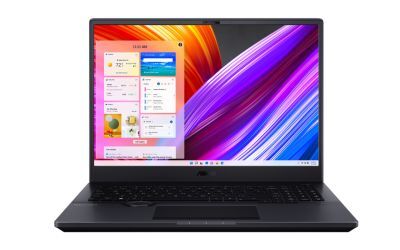 The Asus ProArt Studiobook Pro 17 is a creative powerhouse. It's equipped with an Intel® Xeon® or 9th Generation Intel® Core™ i7 processor, up to 64GB DDR4 RAM, and NVIDIA® Quadro RTX™ 3000 Max Q graphics. This combination guarantees flawless performance when running multiple design apps or rendering 3D models and makes it one of the best laptop for designers.
Its standout feature is the 17-inch WUXGA (1920×1200) NanoEdge display, Pantone validated for colour accuracy, and boasting a 16:10 aspect ratio for more screen space. This feature provides a broad and precise colour spectrum, ensuring your designs look as true-to-life as possible.
For storage, it comes with dual 1TB+1TB PCIe® NVMe M.2 SSDs arranged in RAID 0 configuration for incredible data transfer speeds, allowing for faster load times and a smoother workflow.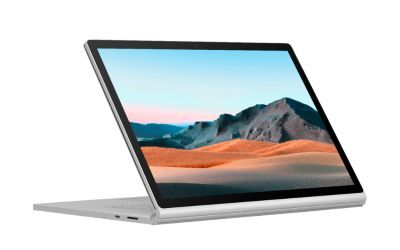 When it comes to versatility, the Microsoft Surface Book 3 is hard to beat. Its unique feature is a detachable screen that transforms the laptop into a tablet, perfect for designers who prefer hands-on interaction for sketching or brainstorming ideas.
Inside, it's packed with up to a 10th Generation Intel Core i7 Processor and up to 32GB RAM, ensuring it can handle demanding design tasks. The NVIDIA GeForce GTX or Quadro RTX GPUs provide smooth and flawless graphics rendering.
The Surface Book 3 comes with a 13.5″ or 15″ PixelSense Display. With high-resolution and colour-accurate visuals, it ensures every detail of your designs is showcased perfectly. Its SSD storage options range from 256GB to 2TB, providing plenty of space for all your design files.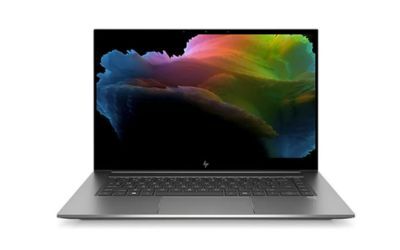 The HP ZBook Create G7 is another best laptop for designers to cater to the rigorous demands of designers. This machine is packed with an up to 10th Generation Intel® Core™ i9 processor and up to 32GB (2x16GB) DDR4 2666 memory, offering lightning-fast performance to effortlessly run design software.
Its 15.6″ diagonal, 4K UHD (3840 x 2160), IPS, HDR-400, 550 nits display ensures your designs appear sharp, with vibrant colours and excellent contrast levels. The NVIDIA® GeForce® RTX 2070 (8 GB GDDR6 dedicated) graphics allow for seamless 3D rendering and high-resolution video editing.
The ZBook Create G7 offers up to 2TB PCIe NVMe TLC SSD storage, providing speed and reliability, ensuring your design projects are safe and accessible at all times.
Key Considerations You Need To Know Before Buying The Best Laptop for Designers
When you're a designer, your laptop is more than just a device—it's your creative partner. It needs to keep up with your innovative ideas and the demanding nature of design software. That's why it's paramount to consider key factors before purchasing a laptop tailored for design work, whether it's graphic design, UI/UX design, or any other design discipline. In this guide, we delve into some critical questions you should ask before making your decision.
Is a gaming laptop good for design?
Gaming laptops, famed for their raw processing power and top-tier graphic capabilities, offer a tempting choice for designers. Their robust components can handle intensive tasks like rendering high-quality graphics, 3D modelling, or running multiple design applications simultaneously. However, bear in mind that while these machines deliver impressive performance, they might not always provide optimal colour accuracy, a vital feature for design work.
Should designers get a laptop with a touchscreen?
The advent of touchscreen technology has given designers a new medium to experiment with. If your work involves sketching, or you appreciate the tactile interaction with your designs, a touch screen laptop could provide an intuitive, engaging experience. However, remember that this feature isn't essential for all design domains. Your decision should align with your work style and needs.
Is Mac or PC better for design work?
The Mac versus PC debate is as old as personal computing itself. Macs often steal the limelight with their premium build, superior displays, and efficient operating systems. However, PCs hold their ground by offering versatility, a wide array of compatible software, and often at a lower price point. Your decision should hinge on your unique needs, workflow, and the type of software you use.
How important is battery life for a design laptop?
The battery life of a design laptop may not be the first specification to cross your mind, but it's a factor of substantial importance, particularly for designers who often find themselves working outside a traditional office setting.
If you're a designer who travels frequently, attends multiple client meetings, or simply prefers to work from a cafe, the park, or other locations, battery life becomes a critical point to consider.
Imagine being in the middle of a design project and your laptop battery depletes rapidly, leaving you scrambling to find a power outlet. This not only interrupts your workflow but can also lead to the loss of unsaved work.
Laptops with extended battery life provide you the freedom to work uninterrupted, no matter where you are. They ensure that your design process continues seamlessly, maintaining the integrity of your creative output and productivity.
How much should you invest in a laptop for designers?
When it comes to designing laptops, you often get what you pay for. High-end laptops tend to provide superior performance, but they can also make a sizable dent in your wallet. While it's essential to invest in a reliable machine, it's equally important to ensure the laptop aligns with your budget. Consider your financial boundaries and strike a balance between price and performance.
How to determine laptop specs you need?
Determining the technical specifications of your prospective laptop is critical. Make sure to ascertain the requirements of the design software you use regularly. Here's a detailed approach on how to determine the specs you need:
Start by listing out all the design software you frequently use or intend to use. Examples may include Adobe Creative Suite, Sketch, Figma, AutoCAD, or Blender, among others. Visit the official website of each software and find the 'System Requirements' section. Here, you'll find the minimum and recommended specs to run the software smoothly.
The processor is the brain of your laptop. It directly influences the speed and efficiency of your system. If your work involves complex tasks like 3D modelling or rendering, a multi-core processor, such as an Intel i7 or Ryzen 7, could be beneficial. For less intensive tasks, a mid-range processor like the Intel i5 or Ryzen 5 should suffice.
RAM is another critical component. It allows your laptop to store and quickly access information it's currently using. Most design software recommends a minimum of 8GB RAM, but for optimal performance, especially while multitasking, 16GB or even 32GB may be desirable.
The graphics card plays a pivotal role in rendering images, animations, and videos. For design tasks, a dedicated (not integrated) GPU is often recommended. Look for laptops with cards like the Nvidia GeForce RTX or GTX series, or AMD Radeon Pro.
A solid-state drive (SSD) can significantly enhance your laptop's performance by offering faster read/write speeds compared to traditional hard disk drives (HDDs). For design work, you'll need plenty of storage space. Start with a minimum of 256GB, but if your budget allows, a 512GB or 1TB SSD would provide a comfortable workspace.
While not a 'spec' in the traditional sense, the quality of your laptop's display matters. Look for a laptop with a high-resolution display (Full HD minimum, 4K if budget permits). Additionally, ensure it offers a good colour gamut, such as 100% sRGB or Adobe RGB, for accurate colour representation.
The best laptop for designers is one that balances performance, graphics, and storage while aligning with individual needs and budget. Whether you're a professional designer or a student, investing in the right laptop can streamline your workflow, boost productivity, and unleash your creative potential.
From the powerful Apple MacBook Pro to the versatile Microsoft Surface Book 3, the options are numerous. Make an informed decision based on the insights from this guide and choose a laptop that best enhances your design prowess.